Jane Sullivan is a recognized specialist in Calligraphy and Illumination who works regularly on orders for both companies and individuals. If you are interested in her work you can contact her directly.


Jane's calligraphy is based upon the scripts of Europe from Antiquity up to the invention of printing…and even beyond that, because the graceful style called "Copperplate" dates to the 18th and 19th centuries. This latter is a hand that Jane uses very frequently, often to complement to more ancient styles. Among the hands that she enjoys you will find Uncial, Carolingian, and of course Gothic and its descendant French Bâtarde.

Jane also works in Italic and Humanist (sometimes called "littera antiqua"). Furthermore, she is specialised in all forms of Insular calligraphy, that is to say the majuscule and minuscule hands of medieval Ireland and Britain.

Complementary to these styles of calligraphy, Jane's illuminations are inspired by medieval manuscripts; however, she works in quite a modern fashion, using fine quality gouache in place of hand-prepared pigments, for example. (That said, artist-quality gouache, such as Winsor & Newton, is actually the descendant of the pigments of the Middle Ages.) Nonetheless, one could say that Jane does indeed use the approach of a medieval scribe, as she does not "copy" the illuminations of other illuminators, but rather she creates her own original designs from her imagination and from the inspiration of the manuscripts she consults, just as the scribes of the past have always done.

The forms of illuminated decoration that Jane prefers above all are those from the Celtic tradition: the knotwork and interlace which were the jewel of Insular art in the early Middle Ages, as one finds in the magnificent Book of Kells or the Lindisfarne Gospels.

As with all artists, Jane loves to share her talents: calligraphy and celtic harp.
Here are some examples of work that can be ordered from Jane:
family trees
birthday or Christmas cards
table place-names
book or CD covers
ex-libris/book-plates
birth announcements
wedding invitations
hand-make books or booklets
logos
book-marks
menus
monograms
poems, songs or quotations in calligraphy
original designs for tattoos
To place an order, please contact Jane. She will then produce roughs to discuss with you before beginning to work on the final project. Prices vary according to the time and detail/complexity of the work. Here are some examples of possible commissions with a guideline for pricing.
Monogram
Two or more letters in black and white (usually in Copperplate, Italic or Gothic). These can be used as a logo, ex libris, or letterhead. The finished designs are presented in A4 format, with several choices of style and variations of form.
Prix : 85 €
Illuminated Initial
A single letter.The original artwork is in full colour (gouache on rigid watercolour paper), A5 in size, presented with a mount and executed in your choice of colours and style, with personnalised motifs as desired.
Prix : 175 €
Two Initials
Two illuminated letters intertwined or joined by interlace. The perfect gift for a wedding or anniversary! The original artwork is presented in colour (gouache on watercolour paper), usually A5 in format but may also be up to A4 in size. Mounted.
Prix : 250 €
Illuminated Name
For a child or an adult, a beautiful presentation of their name decorated with fairy or fantasy art motifs, in medieval or celtique style, or even with a modern look! An excellent choice for a logo design for your business-name, a letterhead or as a special gift for a newborn…. Presented as detailed above.
Prix : 150 à 275€
Extras
Orders executed or hand-made paper:
add 50€ – 100€

Orders including real gold leaf (23 carat):
add 50€
Please don't hesitate to contact Jane to discuss your ideas or ask for a quote.
Some examples of Jane's work:

Illuminated Letters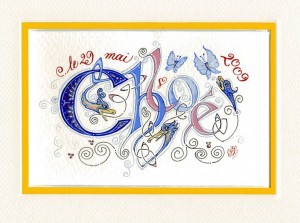 Birthday Card/ Birth Announcement

Book-marks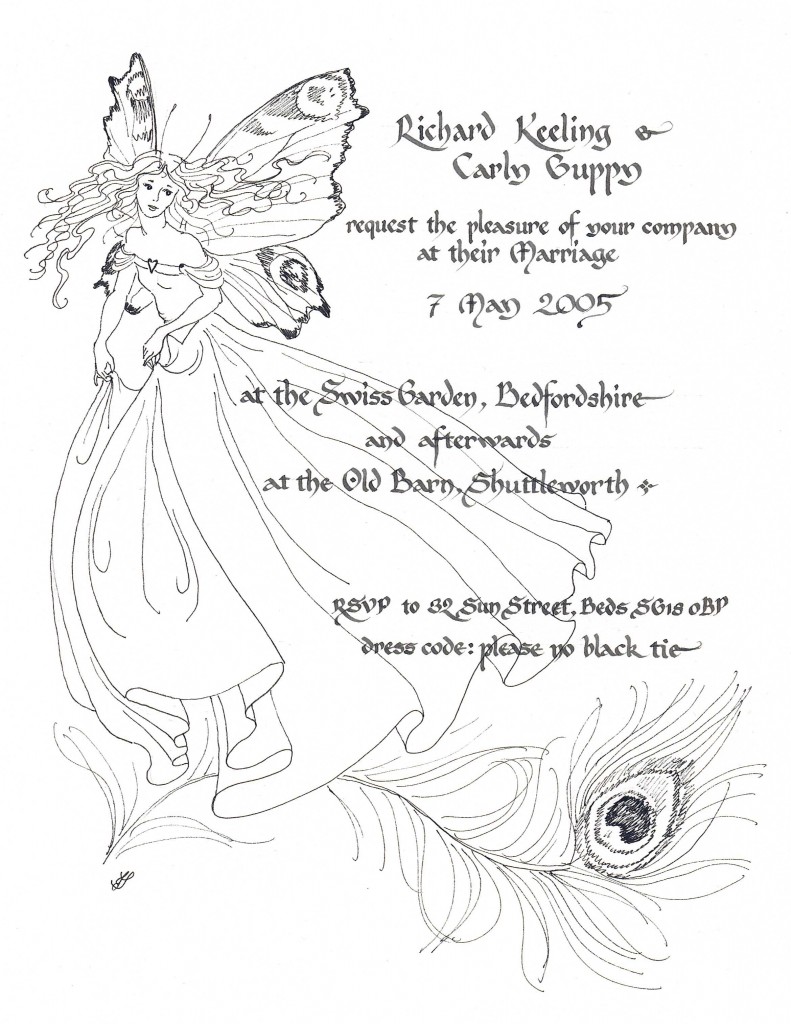 Wedding Invitation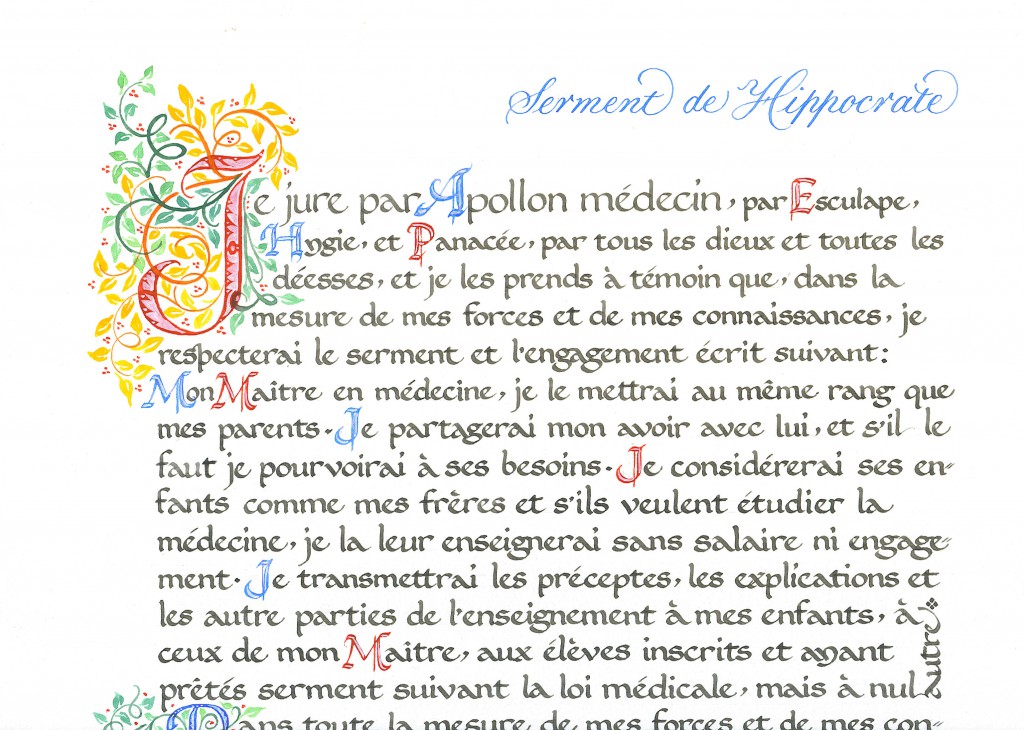 Quotation or Text in Illuminated Calligraphy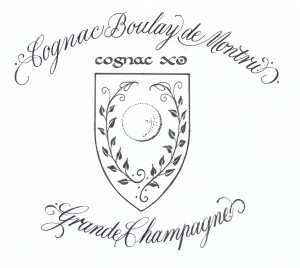 Logo or Label